Tulip Tower Bracelet
Summary:
Skill Level: Intermediate
Supplies Required: 15 Pink, 15 Aqua, 7 White, 7 Green, 1 Clip, 0 to 8 elastics for extension
Description: The Tulip Tower bracelet is another cluster bracelet. Cluster bracelets are fun to work with because of the various color combinations which could be made. Alternate the colors of the clusters, or create a unique sequence, either way, this bracelet will create nice clusters of tulips.
---
A picture of the Tulip Tower Bracelet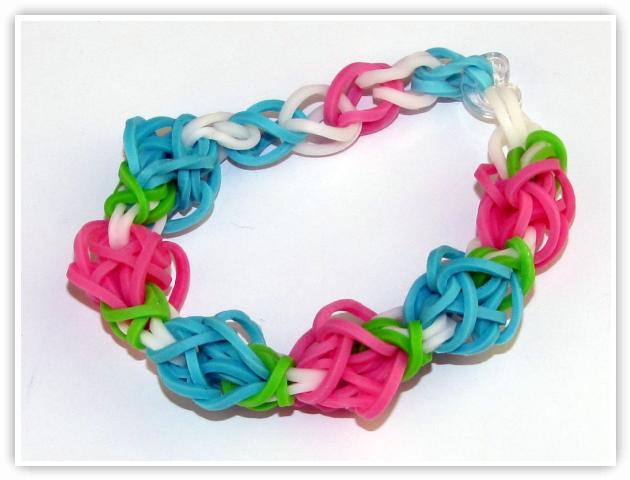 ---
A video tutorial to make the Tulip Tower Bracelet
---
Step-by-Step Instructions for the Tulip Tower Bracelet
1) Tulip Tower
2) 15 Pink, 15 Aqua, 7 White, 6 Green, 0-8 for extension,1 Clip
3) Position loom so arrows are pointing up
4) Place the elastics as follows:
- bottom peg to left
- bottom peg up
- bottom peg to right
- left peg to upper center
- right peg to upper center
- white middle up one
- green across the white
... repeat
5) Place a doubled up white elastic onto the top center peg
6) Rotate loom so arrows are pointing down
7) Loop in the following:
- white up
- left green to upper center
- right green to upper center
- center pink to the left
- center pink to the right
- center pink up
- left pink to the center
- right pink to the center
... repeat
8) Place the tip of the loom tool through the elastics on the top center peg
9) Place a white elastics onto the hook, pull half way through and loop onto tool
10) Carefully, pull the entire pattern from the loom
11) Rotate loom so arrows are pointing up, and place the extension elastics
12) Remove pattern from tool, and place on upper pegs of the extension
13) Rotate loom so arrows are pointing down, and loop the extension elastics
14) Attach the Clip to the upper loop of the extension, and pull extension from the loom
15) Attach the other end of the pattern to the Clip
16) Tulip Tower