Triple Single Bracelet
Summary:
Skill Level: Beginner
Supplies Required: 12 Red, 12 Yellow, 12 Green, 12 Black, 5-8 Black for extension, 1 clip
Description: This is a progression of the Single Bracelet, combining 3 single patterns side by side to produce a wide, attractive bracelet. There are a lot of variations of this pattern on the internet. It is also very popular because it is easy to make, can be used with many color combinations, and sequence combinations. It can also be made into a All-Around Pattern as well. The All-Around-Triple Single is posted under our Advanced section.
---
A picture of the Triple Single Bracelet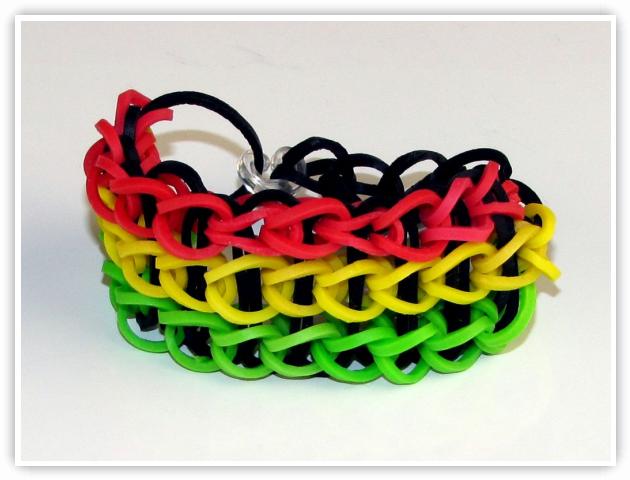 ---
A video tutorial to make the Triple Single Bracelet
---
Step-by-Step Instructions for the Triple Single Bracelet
1) Triple Single
2) 12 Elastics for left side, 12 Elastics for middle, 12 Elastics for right side, 1 Clip, 1-7 Elastics for support, 12 Elastics for extension
3) Start with the arrow pointing up
4) Place one set of elastics along the first column from bottom to top
5) Place second set of elastics on the second column the same way, from bottom to top
6) Place the final set of elastics along the third column, bottom to top
7) Starting with the second row, place an elastic across all three columns and continue to the top of the loom
8) Flip the loom so the arrows are now pointing down
9) Starting with the left side, loop the bottom elastics through all elastics on the peg, and loop straight up to the next peg....
...continue to the top of the loom
10) Repeat this looping process with the second column...loop through all elastics on peg to the next upper peg
11) Repeat this looping process with the third column...loop through all elastics on peg to the next upper peg
12) Grab the elastics on the top left peg, and place on the top center peg
13) Repeat with the elastics on the top right peg, place onto center peg
14) Place tip of loom tool through all elastics on the center peg
15) Put elastic on hook, pull half way through the center peg elastics, and loop onto loom tool
16) Carefully pull pattern completely off of the loom
17) Rotate loom so arrow is pointing up
18) Place extension elastics as shown (number of elastics dependent on wrist size)
19) Carefully remove the double elastics from the loom tool and place on upper pegs of extension
20) Rotate loom so arrow is pointing down
21) Loop extension elastics from bottom to top
22) Loop extension elastics from bottom to top
23) Place clip onto final elastic loop of the extension, then remove extension from loom
24) Place clip on loop at the other end of the bracelet
25) Triple Single