3 Segment Dragonscale Bracelet
Summary:
Skill Level: Intermediate
Supplies Required: 34 Green, 17 Black, 1 Clip
Description: This off-the-loom pattern can be made as long as your need. It is also call the dragonskin, or fishskin bracelet. Although this particular example of the dragonscale has 3 segments, it can be made as wide as the loom is long. This pattern is also particularly popular, because you do not need a loom to create it. It can be created easily using a fork as the loom. Different variations of the patterns can be made by place a twist or figure-8 in the elastics as they are being added to the pattern.
---
A picture of the 3 Segment Dragonscale Bracelet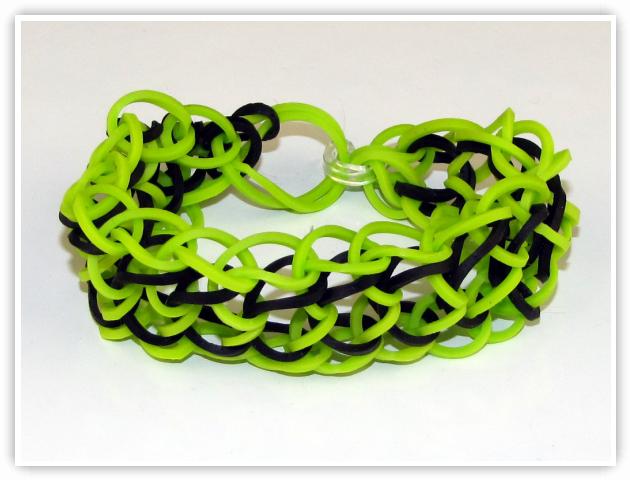 ---
A video tutorial to make the 3 Segment Dragonscale Bracelet
---
Step-by-Step Instructions for the 3 Segment Dragonscale Bracelet
1) 3 Segment Dragonscale
2) 34 Green Elastics, 17 Black Elastics, 1 Clip
3) Position loom with arrow pointing to the right (we removed the row so it is easier to see, but it is not necessary to remove )
4) We will be using the right 4 pegs 4 3 2 1
5) Place a green elastic between pegs 1 and 2, then another between pegs 3 and 4
6) Then place a black elastic between pegs 2 and 3
7)Loop the bottom elastics over the top on all pegs with 2 elastics on them
8) Repeat the process: Add 2 greens to the outer 2 pegs, loop all bottom elastics, then add black to inside pegs, and loop all bottom elastics over the top
elastics
8) Check for the desired length
9) Gather the elastics onto the loom tool from left to right, pushing the loom tool from top to bottom
10) Attach a Clip to all 4 elastics on the loom tool
11) Remove loom tool, and attach other end of pattern to the Clip
12) 3 Segment Dragonscale